One way to stand out from the crowd is to make it extra simple for prospective families to view your campus in high-definition detail.
Virtual tours are a phenomenal way to promote, show-off your schools' campus and generate interest. By offering a fully immersive experience, prospective families can see ahead of time exactly what your campus has to offer – giving them the confidence to enrol their children at your school. 
Roughly 60% of students have deemed virtual tours effective when making a decision on which school they would like to attend, especially during the CoronaVirus pandemic. Students & parents want to explore a potential campus but may not be able to with current travel restrictions.
Virtual tours allow prospective families to connect with your school, attract new applicants from diverse prospect pools, build a relationship with prospective students and allow you to tell your schools' story in a unique environment. 
Virtual tours can be seen as an invaluable tool in the admissions process and by embedding these tours in strategic locations on your website, you will surely be ahead of the game. 
Homepages are the first page visitors will land on when visiting a website, so why not introduce them to a tour the moment they visit your schools' site? Placing a virtual tour on your schools' homepage will allow prospective families to see your campus without ever having to click onto another page. Virtual tours allow schools to make an instant connection with families, who can quickly visualize enrolling their children there.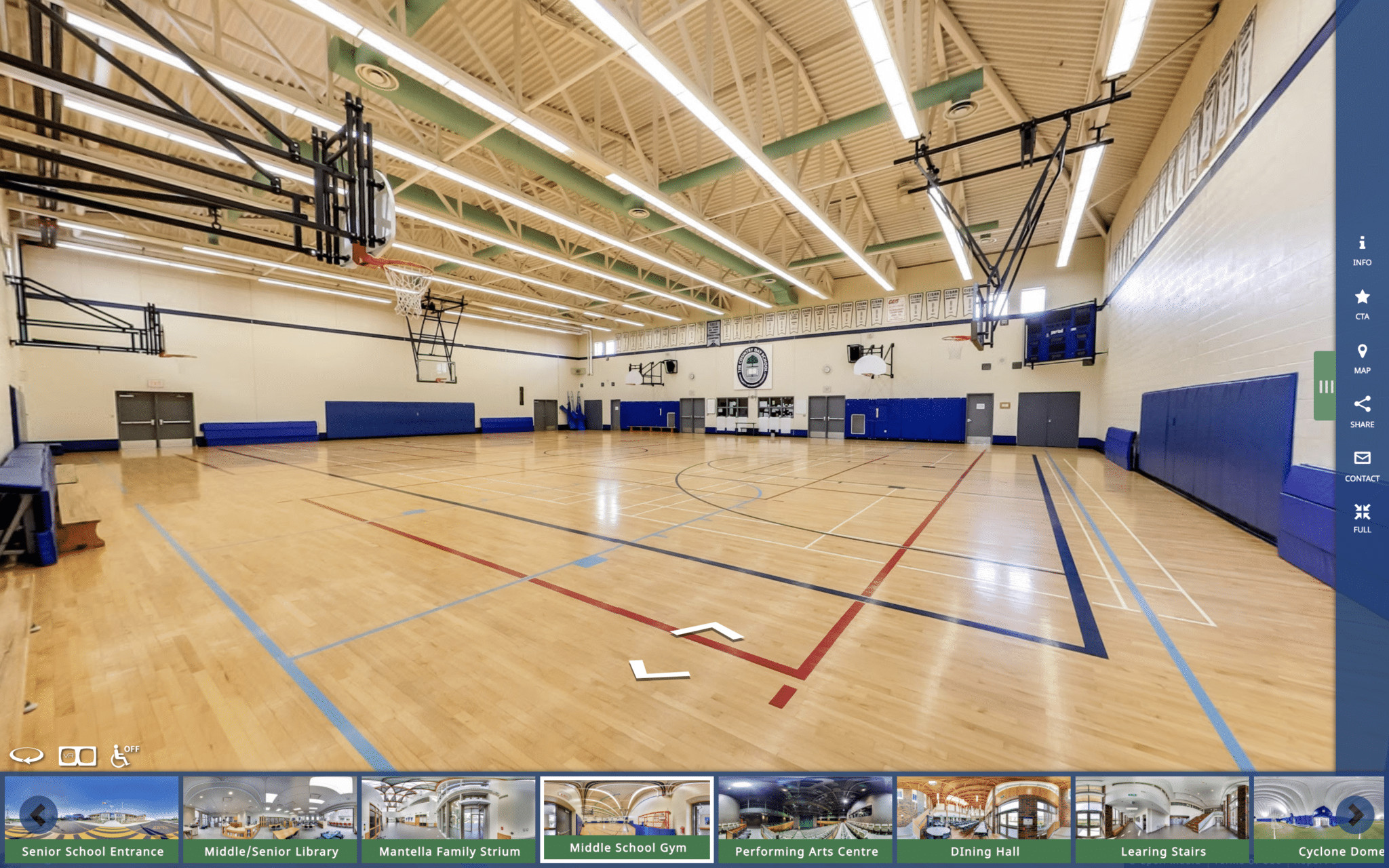 The Benefits

There are a vast amount of benefits associated with virtual tours. This immersive visual experience is the closest thing to being on location in person. By offering this service on your Google My Business Listing and additionally on your website, it will differentiate you from your competition. When prospective families can view your amenities in great detail from the comfort of their own home, they are significantly more likely to commit. 
Let's look at some of the many benefits of custom virtual tours:
Wholly immersive, visual communication experience, incomparable to static photography.

Converts site scrollers to engaged users and committed prospects in a single click. 

Fully customizable in accordance with your brand identity, colours and messaging. 

Accurately portrays your campus' unique identifiers in intricate detail. 

Allows prospective families to experience your campus & amenities from the comfort of their own home, on their own schedule. 
Take Your Schools' Campus Virtual! 

We all know how important marketing is for success. Let's have a look at how our team at aperi media worked with The Country Day School to design the tour so their campus was shot in the best possible way to showcase what their school has to offer. To increase engagement with prospective families, you'll certainly be needing all the tools at your disposal. 360° virtual tours will elevate your schools' marketing strategy by offering an immersive experience for online searchers that will likely end with increased enrolment. If you think your school could benefit from a virtual tour, contact us today!