The COVID-19 pandemic has had a dramatic effect on almost every industry. One of the industries hit hardest is hospitality. Hotels, restaurants and other venues have had a particularly hard time, with many dramatically reducing their services or shuttering altogether. However, when this pandemic ends—and it will—the hospitality industry has to be ready to spring back into action immediately. This means being prepared to operate in a post-COVID-19 world.
When things begin to reopen, there will likely still be some restrictions in place. This is why expanding your online offerings will be key to building interest in your business both before and after the lockdown.  We've compiled some tips to help get your business ready for reopening.
5 Tips For The Hospitality Industry Post COVID-19
Ensure a safe work environment.

This is crucial not only to your employees but to your customers. Showing you care about safety will help build trust with your brand, and lead to more business.

Optimize your Google My Business.

During the pandemic, the vast majority of people will be searching for hotels or event venues online. As one of the first things you see during a web search, Google My Business will become an even more powerful tool for businesses looking to reach potential customers. Ensuring you have a properly optimized Google My Business with professional photography, up to date information, and properly managed reviews can give you a leg up on the competition during the lockdown, leading to more business once you reopen.

Create Google 360º virtual tours.

While having a gallery of professionally shot photographs is essential to any venue, a virtual tour allows potential customers to really get a feel for your business. By giving them an opportunity to walk through a full, 360º tour of your hotel or venue, you provide an immersive experience that simple photographs can't—all from the comfort of their home. This is perfect for people planning trips or weddings during the lockdown. After all, customers won't book a space without seeing it. A virtual tour gives them the freedom to view and book a venue or hotel room before the lockdown ends. This is great for businesses looking to hit the ground running once restrictions are lifted. To get an idea, take a look at our work for the

Venetian Banquet & Hospitality Centre

.

Stay up to date.

Odds are that once restrictions are lifted, there will still be a lingering threat of the virus returning. Information regarding COVID-19 and any tests or recommendations will change as time goes on. It's important to stay on top of any new information to ensure the livelihood of your business.

Communicate during the lockdown. Even if you're temporarily closed, it's still important to communicate with potential customers. If you have a virtual tour of your space, let people know. Whether utilizing Google My Business or other social media platforms, there are still opportunities to build interest in your business for when you reopen. The businesses that invest in online awareness will reap the benefits by standing out from their competitors.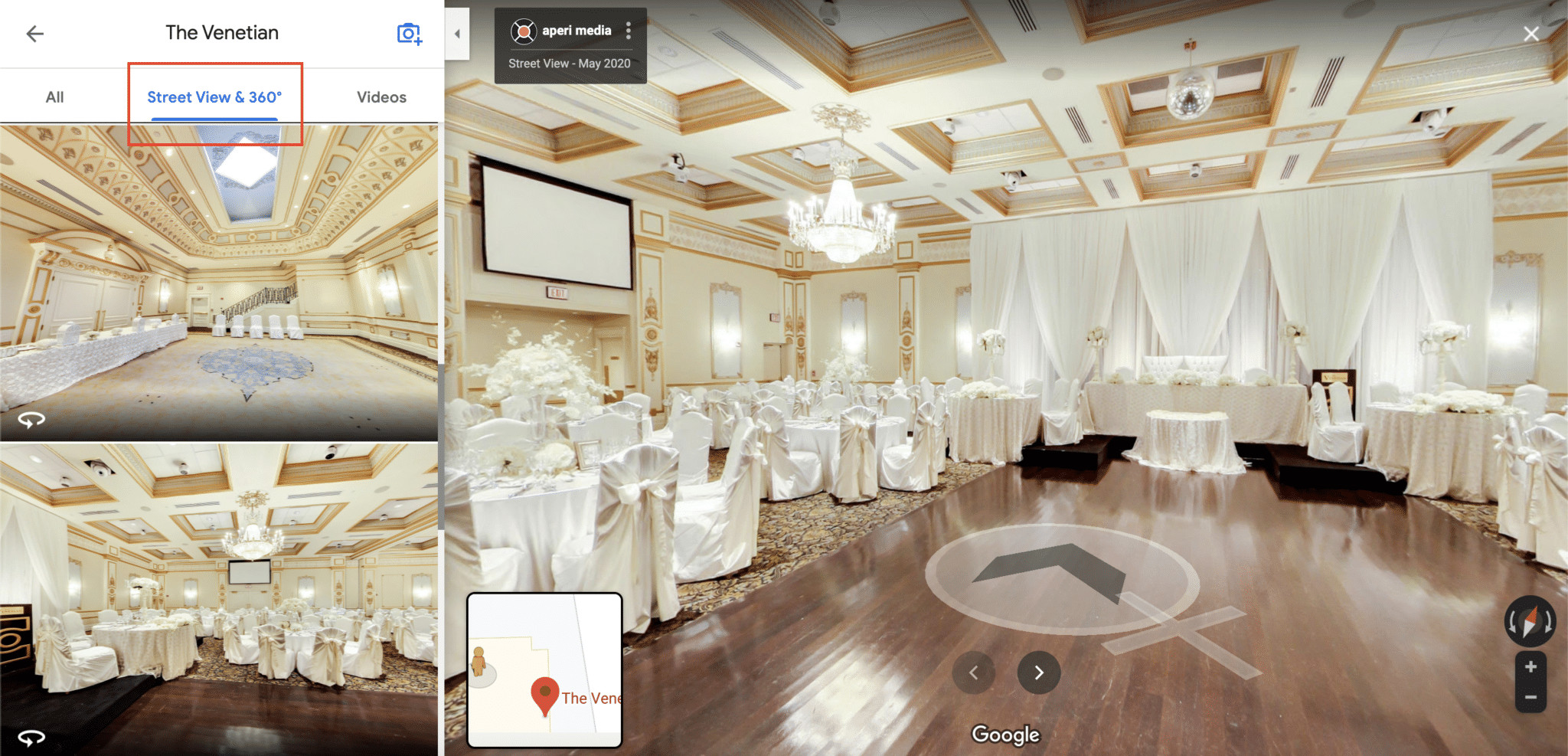 Plan for The Future
Just because your business is temporarily closed, doesn't mean you can't start planning for reopening. By putting thought and energy into online offerings, such as virtual tours and Google My Business, you can get a leg up on the competition for when COVID-19 restrictions are lifted.
At aperi media, we can help showcase your space with immersive, 360º virtual tours of your rooms and amenities. This allows prospective customers to walk your halls and view your suites from the comfort of their home, giving them a strong sense of what you have to offer. We also offer comprehensive Google My Business services, including optimization and review management. If you're interested in what Google My Business or a 360 tour can do for you, contact us today.
Are you in the hospitality industry? How are you preparing to reopen? Let us know in the comments.