Weddings and other special events may be on hold currently due to COVID-19, but that doesn't mean venues can't still be trying to reach new customers. When we all return to business as usual, you don't want to be left trying to play catch up. By building interest in your venue before the lockdown ends, you can ensure a steady stream of income once things reopen. The question is: how? Since physically visiting venues is out of the question for most event planners and customers, how do you showcase your space effectively? 
While many venues have been left scratching their heads, some are increasingly turning to 360º virtual tours powered by Google Street View. Combining high-quality photography with immersive technology, these tours are becoming a popular choice for venues looking to catch the eye of potential customers online.
Save Time. Make An Impression.
Imagine you have an upcoming wedding. You want to find the perfect spot for the biggest day of your life. The trouble is, there are dozens of spaces spread out all over your area. It would take days, if not weeks, to visit and tour every location—and that's not during a lockdown. The current COVID-19 crises makes doing that all but impossible. The great thing about a virtual tour is that you can walk through a venue from the comfort of your living room. You could tour multiple venues in a morning even. And these tours are not just a series of photos. These are fully immersive, 360º virtual tours. This allows customers to walk through each room and get a real sense of the space, exploring details of every room. Take a look at our work for Chateau Le Jardin to get a good sense of what a virtual tour can do. You can see why they're becoming popular with customers, and particularly with planners. Think of the ease in which wedding or event planners can show off different venues to clients.
Because of the ability of virtual tours to save customers time, they'll naturally gravitate towards them. And as time goes on, and the effects of COVID-19 linger, virtual tours will only grow in popularity. This makes investing in a virtual tour a great idea for most venues. Not only will you save customers time and energy, you now have the ability to reach far more people than you would normally. Not only can more people "visit" and tour your venue online, but, because the 360 virtual tours are powered by Google Street View, they can also help improve your search rankings on Google. 
Take Your Experience To The Next Level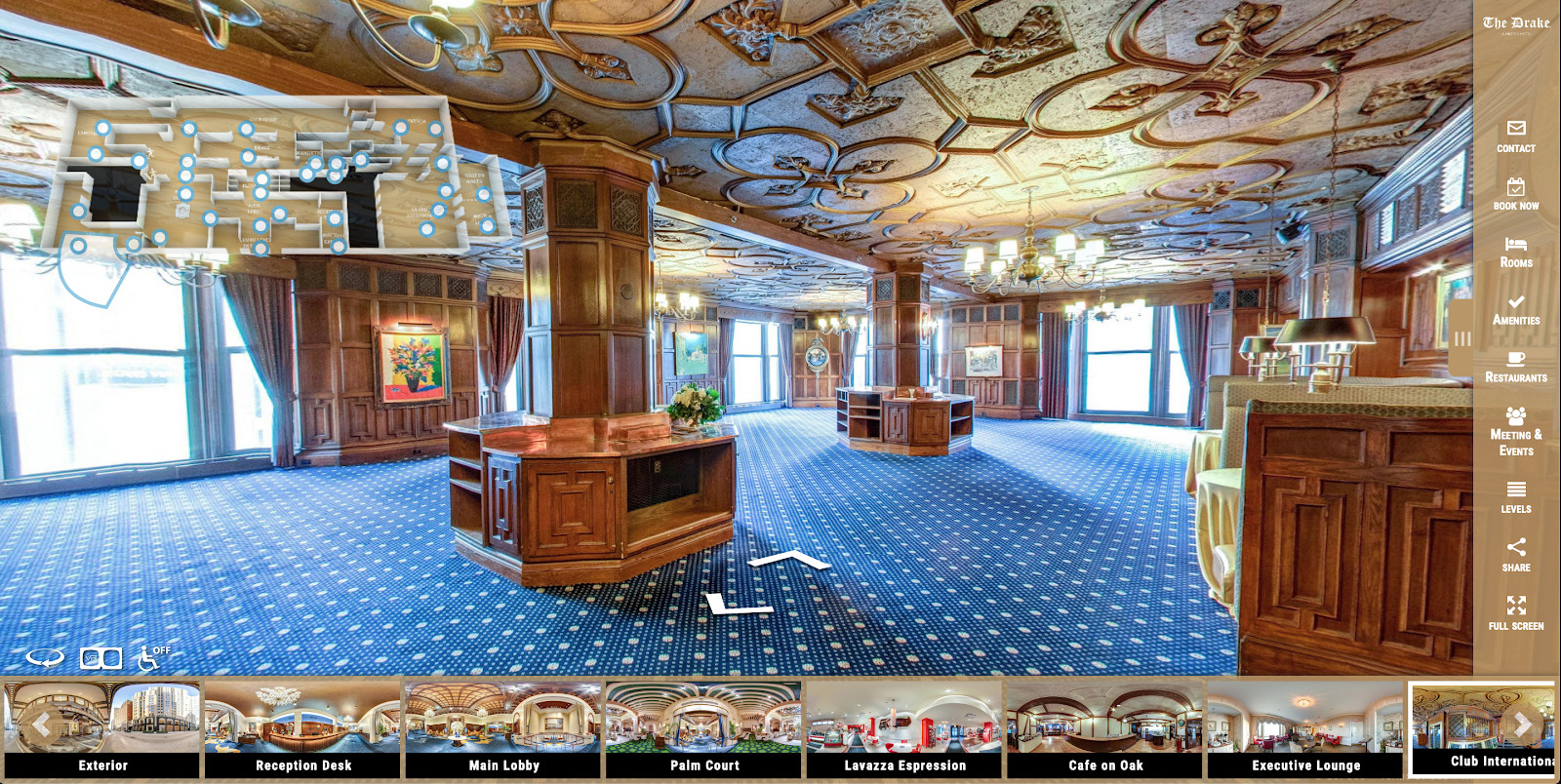 For venues wanting to go that extra step, custom 360 tours are the way to go. With the ability to be embedded in any website you wish, custom tours provide an even more immersive, informative experience. Custom tours allow you to showcase floor plans, square footage and photo galleries, host virtual meetings, as well as tag areas of interest with informational text or video. If you really want to get immersive, you can even load your smartphone into a VR headset to explore the space. 
Virtual tours are no longer a neat add-on, they're becoming a powerful sales tool for businesses across many industries. The hospitality industry, in particular, could see a huge impact. Now is the time to hop onto this emerging technology before your business is left behind. If you think your venue could benefit from a virtual tour, contact us today. We'd love to help your business step into the future.
Are you in the hospitality industry? Do you have a virtual tour or are you considering one? Let us know in the comments.