Every business has faced serious challenges during the coronavirus pandemic. Lockdowns across the world have dramatically impacted almost every business, especially ones that rely on physical traffic. For showrooms, like Fisher & Paykel, this severe loss of foot traffic translates into a serious loss in sales. Looking to attract more customers and boost sales online, Fisher & Paykel came to us.
We Turn Showrooms into 360º Virtual Tours
As innovators in the appliance industry, Fisher & Paykel were also looking to innovate online. By turning their showroom into a 360º virtual tour, they're able to showcase their products to potential customers anywhere in the world, allowing them to shop from the comfort of their home. This also gives customers more time with their products. Whereas a store visit may only last an hour or less, online browsing can last a lot longer often leading to larger purchases. And because these virtual tours are powered by Google, they also improve a business's SEO and local search visibility. So not only does a virtual tour allow customers searching for Fisher & Paykel products to tour their space, but it also has the potential to reach even more customers that are searching for kitchen appliances in general.
Our team worked with Fisher & Paykel to understand their sales goals and to design the tour so their showroom was shot and laid out in the best way to showcase their products. Our professional photographers visited their two flagship locations, Costa Mesa and New York, mapped them out, and photographed them in 360º panoramas. Then, our team of editors stitched these panoramic photos together into a fully immersive 360º virtual tour. 
Easily accessible from Google and also embeddable into any website, the tours give potential customers the opportunity to walk around and explore the space as if they were there. The high-definition images allow for zooming in on detail and giving customers a great sense of what the appliances look like. This is an incredibly powerful selling tool, as it's the next best thing to physically interacting with a product.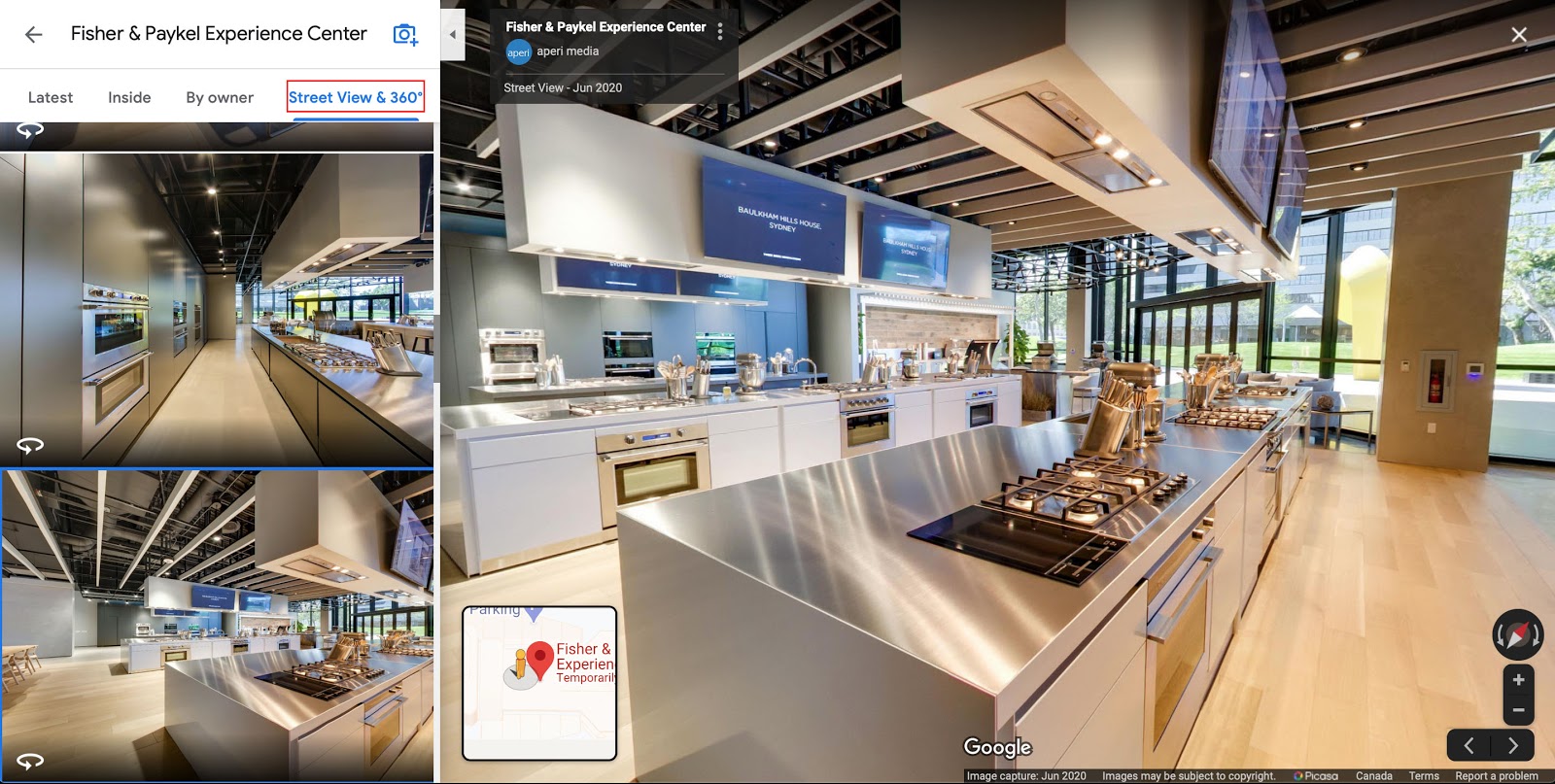 Increase Sales During Lockdown or Anytime
Our tours for Fisher & Paykel's Costa Mesa and New York locations allowed them to reach customers all over, while still keeping their staff and clientele safe during the pandemic. At aperi media, we've been creating 360º virtual tours for years, helping businesses reach a wider base of customers. During the pandemic, we've been able to help businesses by shooting tours of their stores safely and giving companies opportunities to sell their products despite lockdown orders. If you think your business could benefit from a virtual tour, contact us today.