You've finally set your company up with a Google My Business, congratulations! Having a Google My Business profile is incredibly important to your local online presence. Now what? How do you take your profile to the next level? One of the best things you can do to improve your GMB performance is by creating and uploading high-quality photos.
Why Are Photos Important to Google My Business?
The importance of photos on Google My Business can't be understated—they are a key factor in its success. We live in a visual world. People are drawn to images before they pay attention to words. And the proof bears this out: according to Google, GMB profiles with photos get 42% more requests for directions and 35% more click-throughs to their websites. Recent evidence also indicates the more photos, the better: businesses with more than 100 images get 520% more calls and 2,717% more direct requests.
When it comes to posting photos on GMB, there are different types:
Cover Photo:

This is one of the most important images you can upload. This is the image that will be associated with your GMB profile, so make sure it represents your business well.

Logo:

This will help your customers recognize your business on Google.

Additional Photos:

It's a good idea to add different photos that highlight features of your business.

360º Photos & Virtual Video:

These are two new, exciting additions to GMB. These require specialized equipment but offer a great, immersive experience for users. The good news is we can help.
Take Control of Your Images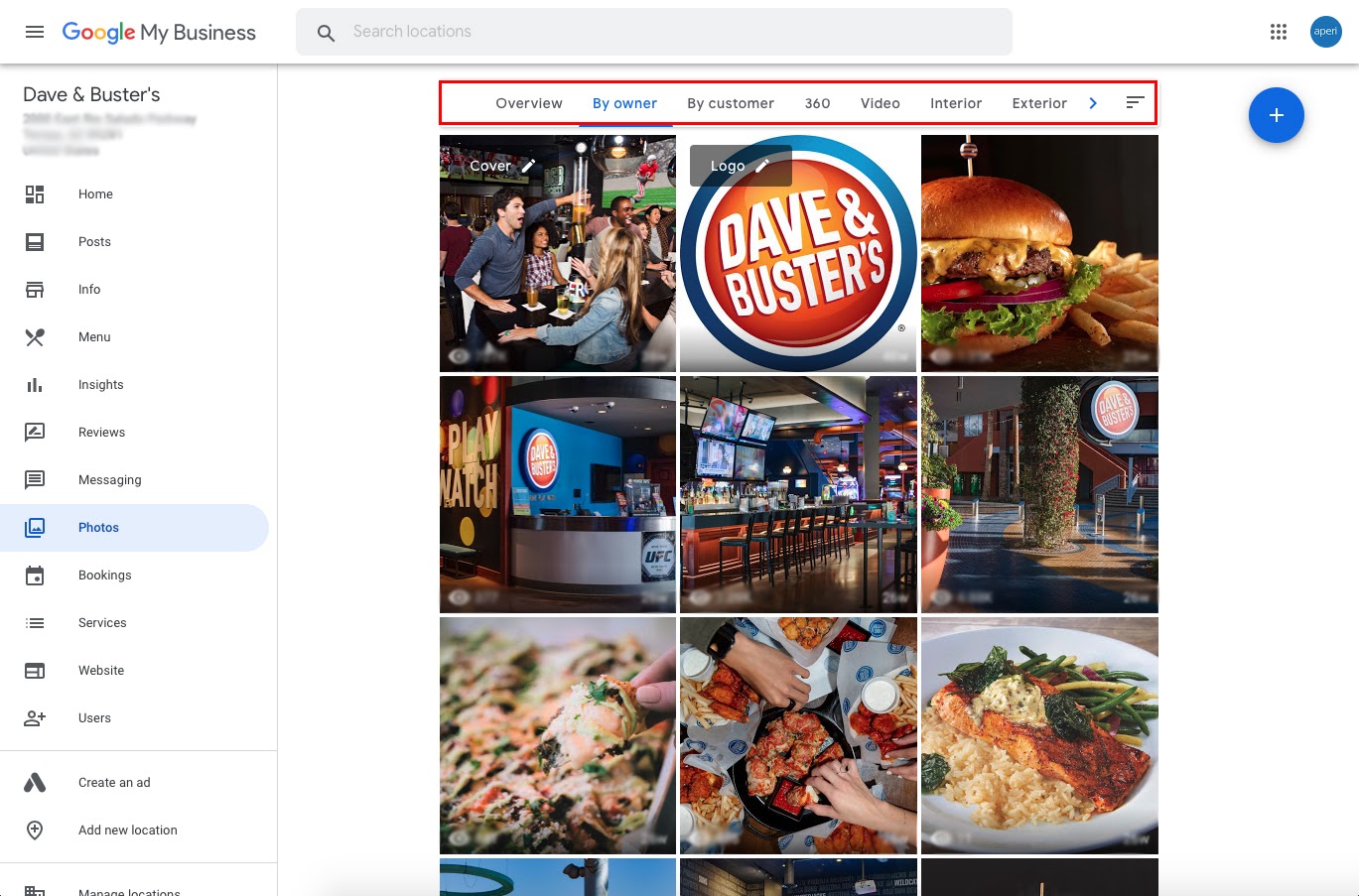 While users can upload their own photos of your business, you can still exert quality control by having strong photography of your own. This means: professionally shot, high-quality photos that give customers a good sense of your business. Google recommends:
3 or more

exterior photos

from different angles, at different times of day

3 or more

interior photos

that give a good sense of the inside of your business

3 or more photos of your

most popular products

, food items, beverages, etc.

An image of any

common areas

your business may have, such as a reception

3 or more images that show your

service in action

(if applicable)

3 or more

management/team photos

If in the hotel/motel industry, images of

guest rooms
The important thing to keep in mind with your own photography is that it should be high-quality. Poor images can negatively affect how customers view your business. In fact, 60% of customers say good images capture their attention more and drive them to act.
A Combination of Quality And Quantity
When it comes to Google My Business, photos aren't just important—they're essential. They capture customers' attention, drive action, and lead to sales. And while GMB photos will always be a mix of user and owner-generated images, it's important that you maintain quality control over your own photos. This means hiring a professional photographer if you can.
At aperi media, we have a team of Google-certified photographers across North America who work in a wide range of industries, including restaurants, retail, hotels, co-working spaces and more. If you're looking to take your GMB profile to the next level, contact us today.
Do you have experience with Google My Business? How do you leverage photos? Let us know in the comments.