One of the most powerful and important marketing channels for the multi-family industry is one that is often overlooked and underused: Google My Business (GMB). Many property managers or owners are either unaware of how useful it can be, or simply don't have the time to properly manage their listing. Let's look at why every property owner should be optimizing their Google My Business.
What is Local SEO and Why is it Important?
Before you can dive into GMB, it's good to have a base knowledge of local SEO. Traditionally, when you searched Google for something a simple list of the most popular websites relating to those terms would come up. However, this would mean that national or global businesses would tend to show up near the top. If you're looking for hamburgers to eat, you don't necessarily want to look at the corporate McDonald's website. You want to find a burger in your area. This is where local search comes in. Local search focuses on businesses in your geographical region. GMB is essentially a supercharged Yellow Pages of local businesses. 
Why is it important to show up in local searches? One of the biggest reasons is simply the fact that nearly half of all searches on Google are for local information. The greater usage of mobile phones by customers is also having a significant impact. According to recent studies, as many as 2/3 of all traffic to apartment websites comes from mobile devices, and 88% of people who search for local businesses on their phone will contact or visit that business within 24 hours. This underlines the importance of optimizing your presence to rank higher on local searches—it attracts more business.
How Multi-Family Communities Can Become More Visible Online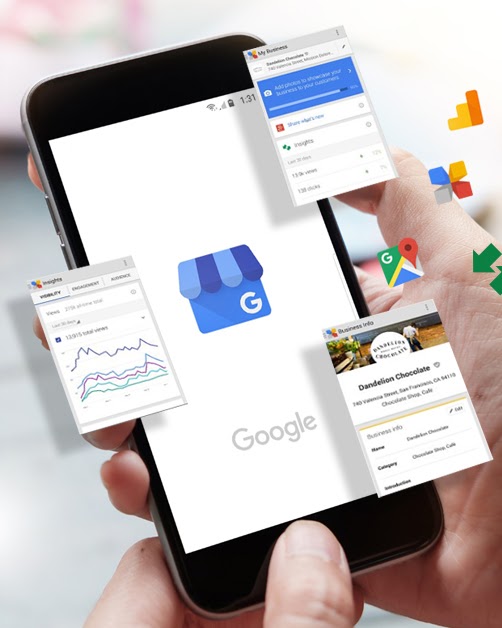 The biggest factor when it comes to showing up in more local listings is trust. Google crawls through all of your information, and if it deems it correct and user-friendly, your search rankings improve. This means your Google My Business listing needs to be properly filled out and optimized. When creating your listing:
Make sure your information is correct.

If Google finds any discrepancies between your GMB listing and your website, it will penalize you.

Write a great business description.

Pick one or two keywords that relate to your business, and build an engaging description of your business around them. This will greatly help with SEO.

Link your GMB with your website.

This is essential. Google will use your website to authenticate your listing.

Add professional photography.

A picture says a thousand words. High-quality images capture customers' attention a lot more than simple text.

Encourage reviews.

Reviews help build trust with Google and with the community. If you know any happy tenants, encourage them to leave a review. It's a simple task that can dramatically affect your business.

Use Google Posts.

Google allows you to post social media-style posts on your GMB. These are a great way to showcase specific units or bring attention to a special event.
Following these steps will help your apartment community appear near the top of the search results when someone looks for it.
Spending the Time Can Pay Dividends
It's easy to see how Google My Business can be a powerful tool for multi-family listings, and we've just scratched the surface. A properly optimized and managed GMB can drive engaged leads to your listings, resulting in more units leased in a shorter amount of time. However, it's not just a set it and forget it kind of thing. To truly succeed with your GMB, you need to constantly manage and respond to reviews, as well as periodically refresh your company information. All of this takes time and energy. At aperi media, we can take care of that burden while letting you focus on what really matters—leasing units. If you think your Google My Business Listing could use an overhaul, contact us today.
Are you a property manager? If so, do you need any support with your Google My Business listing? Let us know in the comments.