The current coronavirus pandemic has touched all aspects of our lives, from how we shop, to how we eat, and how we interact with other people. 
For those families considering which private school to choose, the social distancing guidelines and rolling campus closures have removed access to one of the most critical factors in that choice; the campus tour.
However, through innovative technology, Admissions Directors are using a combination of Google Street View technology and our agency's expertise, to provide cutting-edge self-guided virtual tours to prospective students.
Attracting International Students
Statistics from the Institute for International Education show that the new enrolment of international students dropped 43% because of COVID-19. 
While the virus itself is an obvious concern, social distancing restrictions put in place in many states have also restricted students from viewing prospective campuses. 
Understandably, many families who are sending their children overseas focus heavily on the environment in which they will be living when choosing a school.
Media such as pictures and videos, can only go so far when it comes to advertising the beauty of a school's grounds, facilities and amenities. By putting self-guided virtual tours in place, Admissions Directors enable international students, and those who are unable to travel, to tour the campus at their own convenience.
Increasing Opportunities for Enrolment
As an interactive media, 360° virtual tours can include conversion efforts that just aren't available through campus pictures or brochures. Instituting an introductory virtual tour using Google Street View technology is a low cost and easy solution to the current travel and social distancing regulations. 
Furthermore, the next step up from a Standard Google Tour, is a Custom Virtual Tours which can also be layered with interactive hotspots including call-to-actions that increase enrolment. 
Survey data indicates that students who submit their contact information during a virtual tour are more than twice as likely to apply to that particular school than those who contacted them by phone or through a website. 
Since most virtual tours are self-guided and do not require oversight, scheduling stops being an issue. Families can take the tour at a time that is convenient for them, from any time zone worldwide.
Instituting a virtual tour builds a positive relationship with students traveling long distances or overseas. It demonstrates that the school is willing to go the extra mile to help them make an important decision during a challenging time. Check out how our team at aperi media helped The Country Day School with their 360° virtual tour.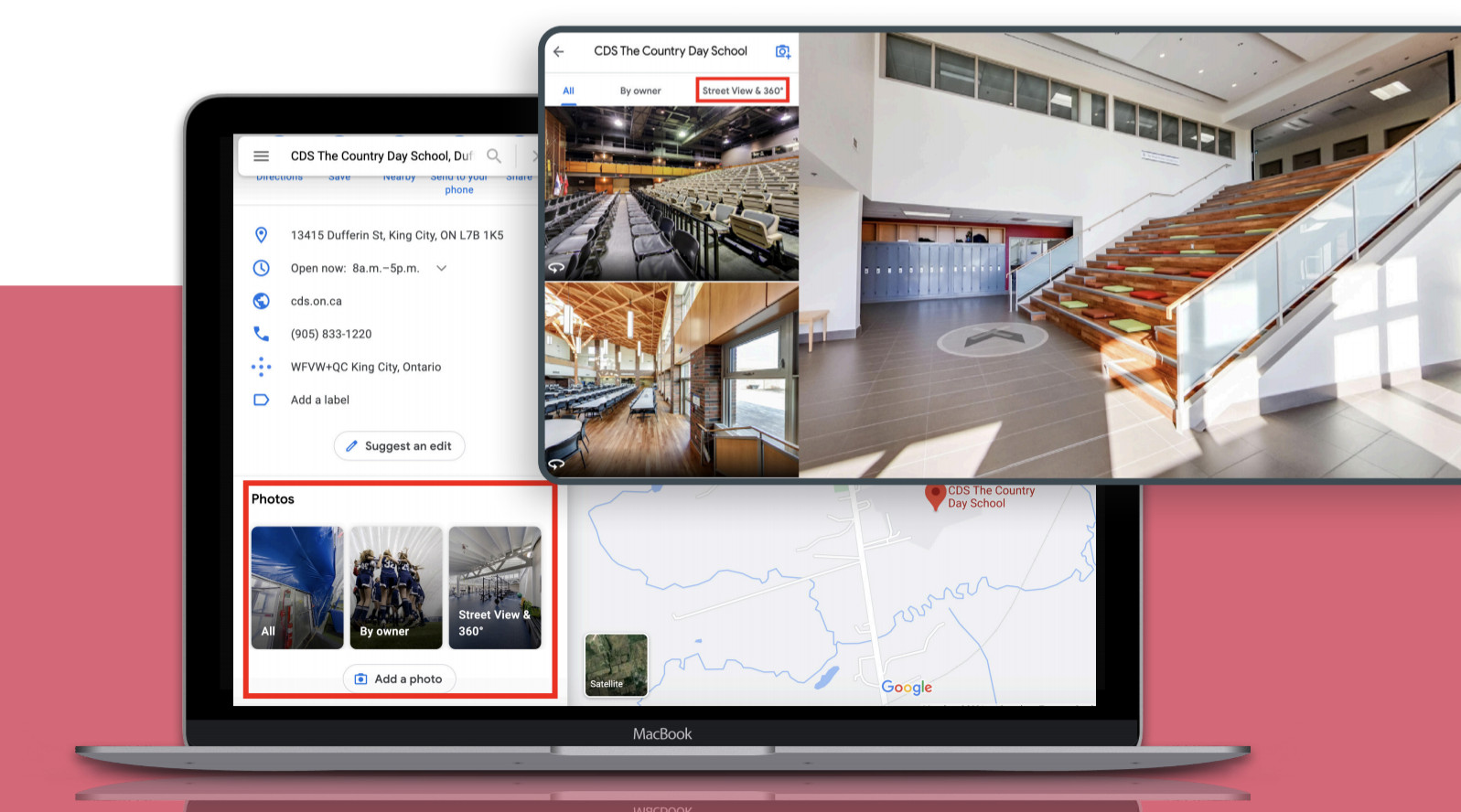 Highlight Campus Amenities
Partnering with an experienced Google Trusted Agency, such as aperi media, to both shoot and edit a virtual tour, allows Admissions Directors to highlight their campus amenities and give prospective families a true feeling of what their school has to offer.
Professionally shot and edited virtual tours highlight a school's key features more engagingly and interactively than traditional media. Adding a virtual tour is a new and highly effective marketing tool for a very manageable cost that is vital for any business as we enter into this new digital world. 
Demonstrating Innovation
Differentiating a school and its offering from its competitors is a critical part of attracting and enrolling students.
Despite their obvious benefits, especially during the current pandemic, virtual tours are still relatively underused. Schools that are able to demonstrate that they can embrace innovation and technological advancements to benefit their students have an opportunity to set themselves apart.
Virtual tours help schools build their credibility and an enhanced level of visual engagement with prospective students. Virtual tours can also be published directly onto a Google My Business Listing, in order to improve a school's search engine ranking, directing more traffic to their website. If you're looking to get a step ahead of your competition, contact us today!