We have all seen the effect that the COVID-19 pandemic has had on every aspect of society, largely including retail, so it is to no surprise that design showrooms have taken a hit. 
As social distancing practices continue to be the norm with less people willing to walk into retail spaces throughout the country, many Showroom Managers have been forced to pivot and adapt to new tools like virtual tours to attract buyers.   
The Problem & The Solution
The problem however, isn't just that showrooms are experiencing less foot traffic. Many showrooms have had to close some of their locations in a bid to reduce their costs, thus reducing the access to their space that customers once had. Having to limit the amount of people at any given time in a showroom while maintaining social distancing measures gives customers an incomplete experience.
Although virtual tours have been encouraged by the pandemic, the trend of businesses going digital has been growing over the past few decades as businesses choose complete and comprehensive 360° virtual tours of their businesses, revolutionizing design showrooms in particular.
Moreover, by embedding a fully-customized virtual tour on your business's website, Showroom Managers can overcome the problems that the pandemic has brought with it. Firstly, prospective trade professionals can visit the virtual showroom without worrying about coming into contact with anyone. Additionally, Showroom Managers can reach a global audience and get people from all over the world to check out their showroom 24/7, rather than being limited by a specific location and opening hours. 
For Managers, 360° tours also have additional benefits outside of reaching a much wider audience. By choosing a day with the best lighting where we can capture the tour images, the entire showroom can be immortalized with the most favorable setting without the worries of bad lighting days and the regularly unforeseen problems that pop up when managing physical showroom spaces. Check out the custom virtual tour we created for Dacor Kitchen Theatre which is embedded on their homepage, Dacor.com.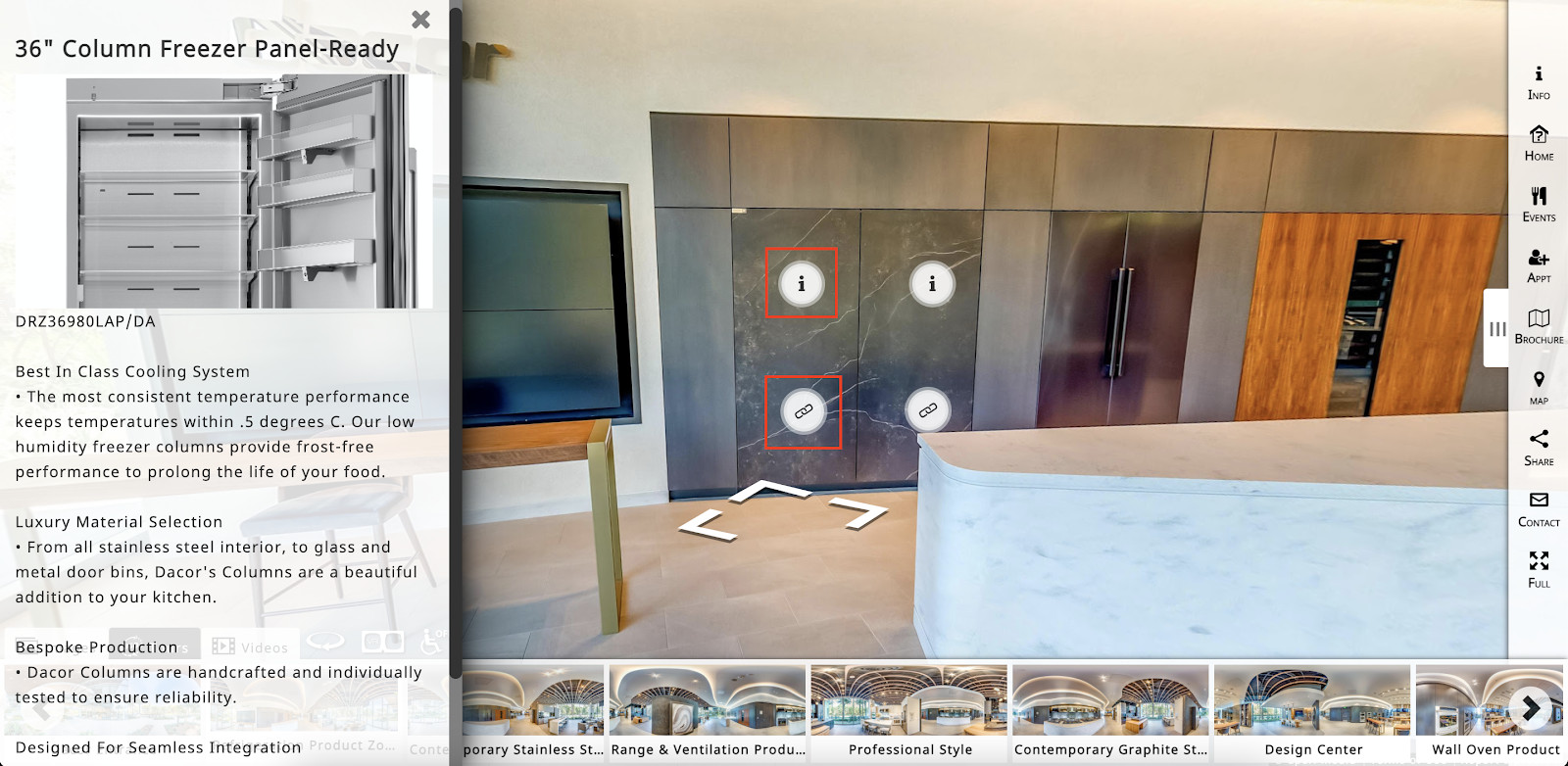 Every custom virtual tour can be personalized with links out to the specific product pages and all of the product information a customer could hope for. Therefore, when they see something they like in the tour, with the click of their mouse they can have access to all of the design details and product information that will help make conversions faster than any in person experience. 
Consumer behavior is continuously moving towards online platforms, especially as newer generations make up larger proportions of the buyer market, so digitizing your showroom capitalizes on this change in consumer behavior and prepares your business for the future! 
If you're looking to get ahead of your competition, contact us today.

Are you a Showroom Manager? Do you have a virtual tour or are you considering one? Let us know in the comments.