Are you a Clubhouse Manager?
You've likely heard of Google 360° virtual tours, but maybe you haven't taken a deep dive into how these tours, of the inside of your clubhouse, could be beneficial for your venue. 
Technological advancements have made golfing more than just a sport and events more than just a celebration. They have made it an experience! 
Google 360° virtual tours are a marketing strategy that focuses on how customers feel about your business. With competition from other golf clubs and the rest of the entertainment & event venue industry, the tool provides immersiveness and the ability for customers to self-guide through your venue.
What is a Google 360° Virtual Tour?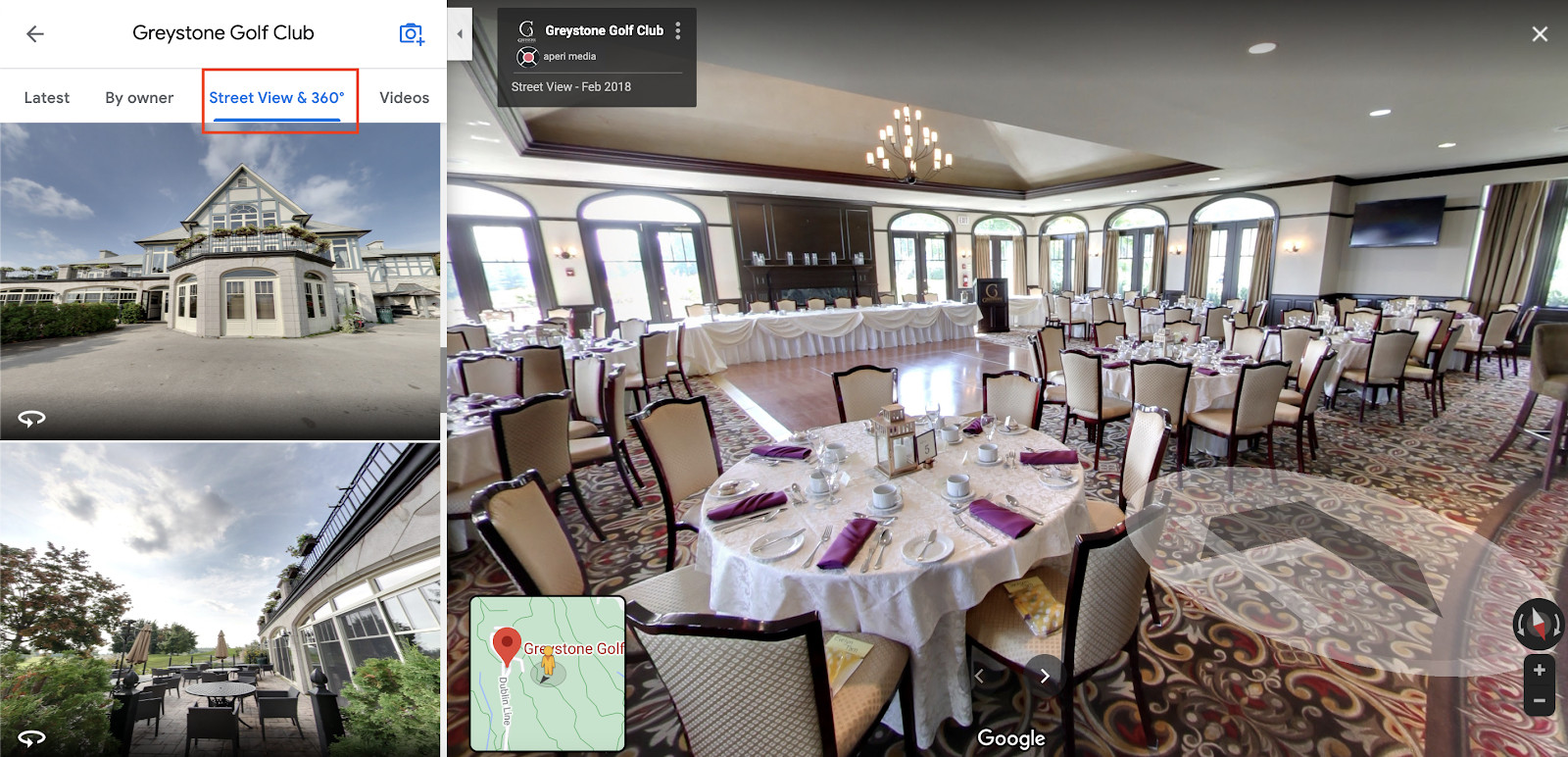 This is a tool that allows your customers to take a three-dimensional tour around your business and peek inside virtually. Check out the tour we provided for Rattlesnake Point Golf Club.
Customers can access your virtual tours by clicking through thumbnails on the left hand side, or navigating through the venue via your Google My Business listing, which adds visibility to your clubs' business. However, you own the rights to the tour meaning you can embed it on your website and other social media for marketing purposes.
For golf course managers, advertising and marketing is not a walk in the park. Competition from other golf courses and the entire entertainment industry makes it hard to remain at the top.
It has been increasingly more strenuous with the outbreak of the Covid19 pandemic. The current restrictions have people staying at home and avoiding gatherings. As a golf course manager, marketing difficulties are probably at an all time high.
But, Google 360° virtual tours can solve this. Here are the reasons you should consider investing in a Google 360° Virtual Tour. 
How Virtual Tours Can Be The Solution 
Virtual tours can be the solution to your marketing woes.
1. Increases Your Visibility
It enhances your Google My Business listing with Google street view imagery. This makes it easier for clients to find you.
An Ipsos MediaCT study found out that listings that include tours and photos are twice as likely to generate interest from potential customers.
Customers can view the tours using their smartphones, tablets, or computers. Regardless of the distance, they can feel and experience what your venue has to offer.
2. You Can Use the Tours on Other Platforms
The Google 360° Virtual Tours are your property and copyright-protected.
Therefore, you can use them on any other platform for marketing purposes, such as social media sites, marketing collateral and in advertisements.
The self-guided tours will look great on your website and perhaps even earn you long site visits from prospective customers. All you need to do is copy and paste the tools linking code into your website. Otherwise you can always reach out to us for support with your Google My Business Listing.
3. Interact with Your Customers
Nothing beats a detailed tour, especially when you don't know the way around.
Customers want to feel welcomed and appreciated. Showing them around gives them a sense of familiarity and warmth, even though virtually.
Your club will stand out from the crowd and allow customers to find you through Google Maps, Street View, and Google. 
This way, you can interact with them even amid restrictions, give them an experience that's second to none, and perhaps even convert these warm leads into paying customers.
Google 360° virtual tours allow customers to find your golf course, view inside and 'walk around' at their own pace. It's the perfect tool for any golf course manager looking to be at the top of the competition and increase the business's visibility while still giving the customers a fantastic, lasting experience. Contact us today for inquiries or if you're ready to get started!